Nobody Will Talk About Us
Nobody Will Talk About Us
2012-2015, Tunisian southwest
For many years the memory of places and people has been the central theme in my work. How to fight against oblivion and how to transmit memory? The series "Nobody Will Talk About Us" engages with these questions.
I went back to the southwest of Tunisia with its silent poverty, its mineral dearth, and its arid and forgotten soil which used to contain riches but whose minerals have been confiscated and stripped from these oppressed, but not submissive, souls.
I took the road that crosses these dusty lands, an area that is both lifeless and inhabited, where the captive figure moves within this universe as its matrix; it extracts itself through gestures that break out of its confinement. In its struggle, in its encounters, in its wanderings, it transmogrifies into a figure of resistance, a figure pushing for freedom and the re-enchantment of an abandoned land.
French title: Personne ne parlera de nous
Series of 22 photographs, various dimensions, inkjet on baryta paper.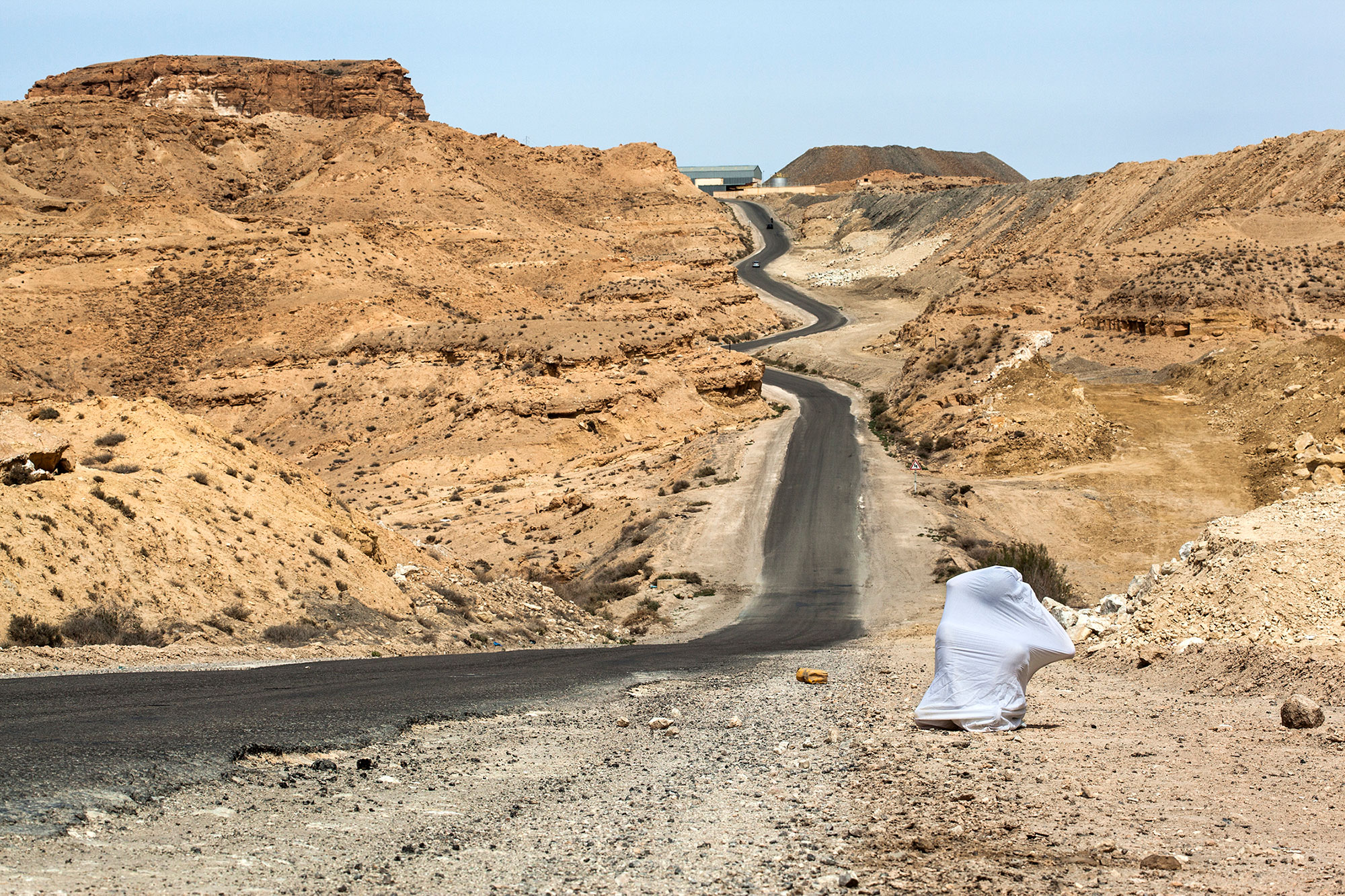 Performance – A* Piece of Street Festival, Basel 2017
The A* Piece of Street Festival was a 3-day international public performance festival organized in parallel to the 7th European Conference on African Studies (ECAS) held in Basel in 2017.
"Between 2012 and 2015 Mouna Karray created a photographic series entitled Nobody Will Talk About Us. She imagined an unidentified body confined in a white bag, moving across a mineral landscape in the Tunisian South. Karray integrated this disturbing figure in her photographs of the beautiful and wide southern landscape, thereby unsettling both the landscape and the beholder. The figure embodies the solitude, confinement, and restrictions of the people of the region in their difficult conditions. By bringing the captive body to Basel Mouna Karray intends to give the figure and its struggles, its encounters and its displacements a more universal meaning.
This is the first time the artist stages her figures in public space, not as a mise-en-scène for her photography, as it is usually the case, but as a stand alone public performance."
Kadiatou Diallo, curator of A* piece of street festival
https://kadiatoudiallo.com/a-piece-of-street-festival/
Nobody Will Talk About Us