Solo Show: The Patterns of Ferdousse
La Boîte _ un lieu d'art contemporain, Tunis, Tunisie
From June 16th to October 10th
Opening June 15th

Talk with Elsa Despiney: June 16th – 5pm
For several years I have been working on my long-term project "The Patterns of Ferdousse".  A new body of works -videos and photographic series- is presented at La Boîte, a contemporary art space in Tunis.

Upon listening, it is a soft voice with vivid accents that, from the outset, paves its way and welcomes us with no introspective heaviness. And on screen, it is a face with hazel eyes and meticulous gestures that halt us in our tracks without dramatization.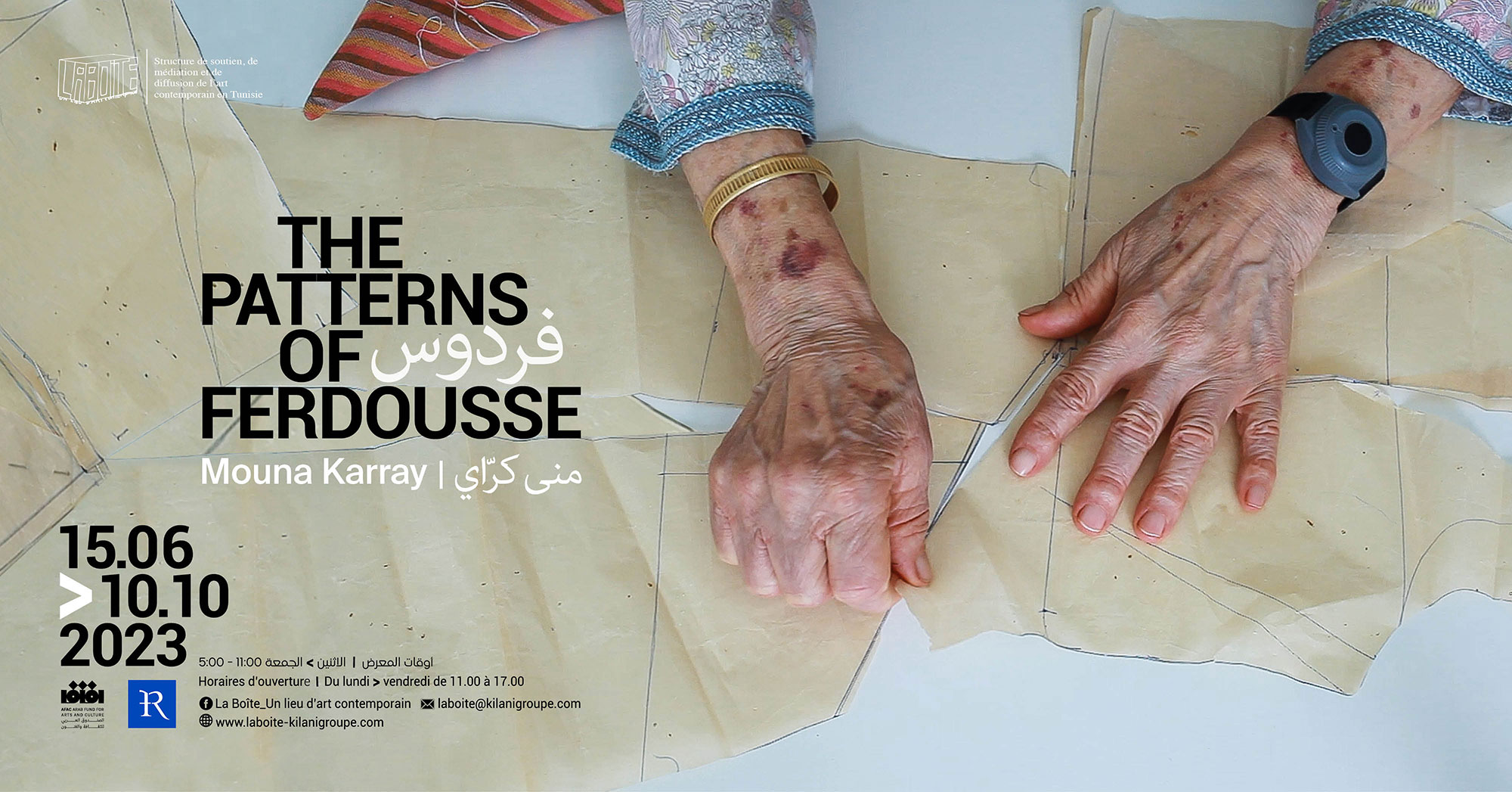 Mouna Karray, who made "La coupure" in 2004 – a work of mourning over the missing image, after her father's passing – returns, two decades later, with a memory work on The Patterns Of Ferdousse.(…)

"The Patterns Of Ferdousse" cannot be reduced to a one-to-one evocation. There is no doubting the strength of the bond, but it is not the artist's relationship with her mother – a biographical theme that is been explored at length – that is at stake here.

For Mouna Karray has no intention of reconstructing the episode in its entirety and in wide vision, as necessary as such a reconstruction may be. The gesture – and this is what this two-pronged, long-term approach is all about – is rather a shared gesture: for both, it is about crossing the warp and weft of time's switchbacks".
Adnen Jdey. Extract from "Memory in gesture", text of the exhibition.
Scenography of the exhibition  Chacha Attalah
The exhibition received the support of La Boîte_ un lieu d'art contemporain à Tunis, a structure dedicated to the support, dissemination and mediation of contemporary art.
https://www.laboite-kilanigroupe.com/
The project was awarded the Rambourg Prize of Contemporary Art and received the support of AFAC Arab Fund for Arts and Culture.